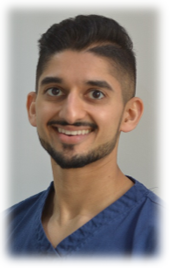 Kush graduated from King's College in 2018 and has been loving working at Caterham Dental Care since.
His passion for dentistry stems from treating patients holistically; to build their confidence in their smiles and improve their dental health.
Kush is honest and easy to talk to whilst listening carefully to his patients concerns. That way he can be gentle and caring in his approach to the patient centred care he delivers.
His interests include cosmetic and restorative dentistry whilst firmly believing in ethical, aesthetic and minimally invasive dentistry.
In his free time Kush loves travelling, when he can, and enjoys many sports, in particular; cricket, scuba diving, dancing and golf.
---
What our patients say:
"This is to confirm my many thanks for the superb work you have done providing me with a
crown for one of my teeth.
Not only was the work carried out to a very high standard but you kindly explained the what
you were doing in a detailed, reassuring and kindly manner. I am delighted with the result.
It would difficult to imagine a better service from anyone else and we are pleased to have
you as our dentist. " – MJH, 2020
"Thank you for explaining so thoroughly, the options available to me. That is unique, for any experience I have had in other practices all my life. It all sounded so scary. With your kind approach to patients, always taking every possible step you could to try to ease the concerns. You are definitely a very kind, gentle person. I really appreciated that "service"." – ES, 2020